[Nekomoe kissaten&VCB-Studio] Isekai Maou to Shoukan Shoujo no Dorei Majutsu Ω / 异世界魔王与召唤少女的奴隶魔术Ω 10-bit 1080p HEVC BDRip [Fin]
简介: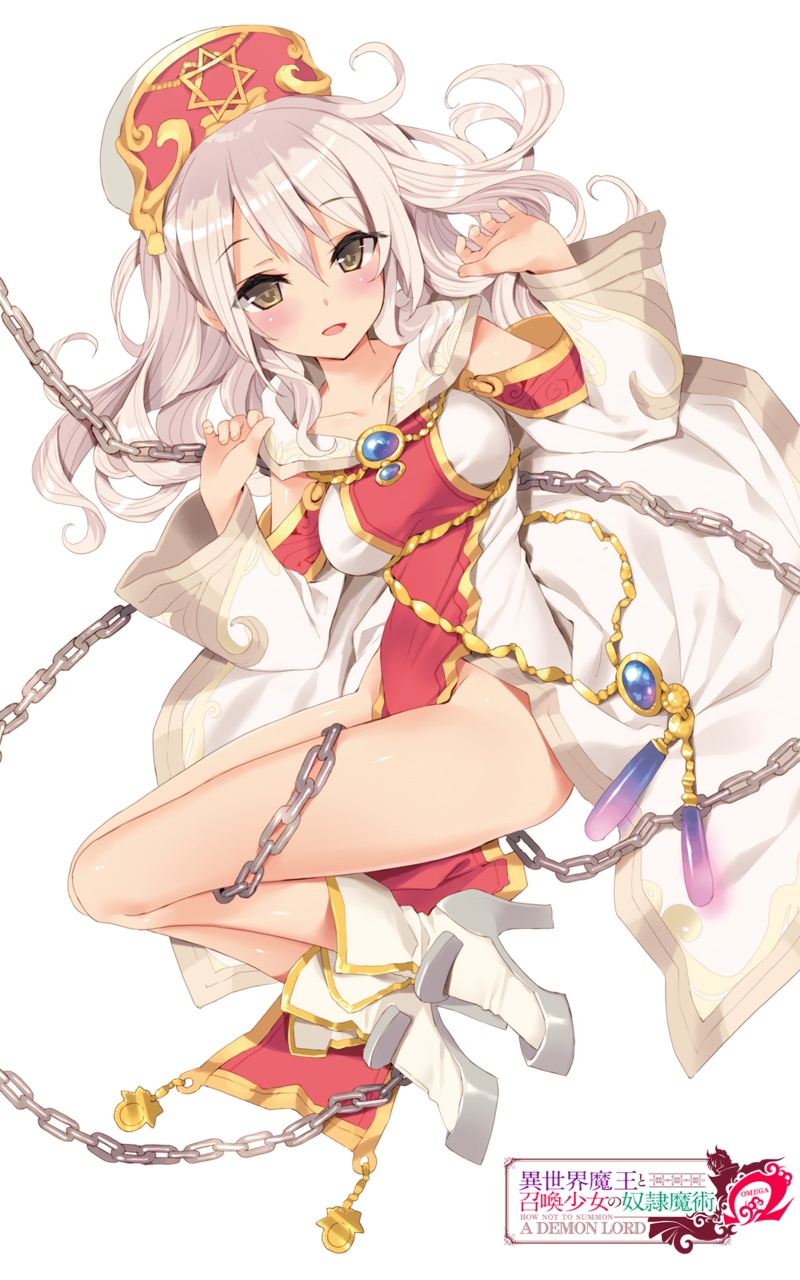 异世界魔王与召唤少女的奴隶魔术Ω BDRip
Isekai Maou to Shoukan Shoujo no Dorei Majutsu Omega BDRip
异世界魔王と召唤少女の奴隷魔术Ω BDRip
10-bit 1080p HEVC + FLAC,MKV 格式。每话约 1.0 GB。

这个项目与 喵萌奶茶屋 合作,感谢他们精心制作的字幕。
This project is in cooperation with Nekomoe kissaten. Thanks to them for elaborating Chinese subtitles.

原盘画质较差,而且制作相当混乱。线条带有非常严重的晕轮,这一问题在 Web 放送时并没有出现,可能是由于后期缩放导致。平面随处可见非常严重的色带和色块,和被压成块状的噪点混杂在一起,很难相信这是约 6.5GB 一集的原盘的表现。而且特典部分,各种混合交错尚且不提,还有被错误反交错导致各种问题,这些问题在现在已经非常罕见了。
我们对画面进行逆向拉伸再重构,并做了轻微的抗锯齿处理和力度较大的去晕轮处理。然后我们对平面进行力度较大的去色带处理之后,加了一定的强度的噪点,改善原盘的噪点质感的同时掩盖住部分难以去除的瑕疵。另外第四集的火焰特效部分的色带实在过于严重,考虑到这种色带严重影响了福利场景的观感,所以我们单独对这部分进行了暴力的去色带处理。
The source is quite terrible, together with the chaotic production. Strong ringing is present around the lines, though not found in the WEB release, probably due to post-scaling. Serious banding and blocking is all over the flat areas, mixed with block-shaped noise. Its confusing quality bothered us a lot, even with the BD release of 6.5 GB / episode. What's more, the bonus contents have staged a carnival of various interlacing and mis-deinterlacing, which caused a bunch of out-dated rare problems.
To fix all those problems above, we have to descale and reconstruct the source, then moderate AA and de-ringing. Strong de-banding is applied afterwards. We also added suitable grains to improve the texture while covering up some difficult artifacts. Besides, some flame-effect scenes of ep4 feature extreme color banding, which is unforgivable because of its significant influence on viewing fan service cut. Therefore, we carried out a violent de-banding process on this part.

---
感谢所有资源提供者 / Thank to all resource providers:
BD: [email protected]
Scans: [email protected]
CD: {神代小祈, Melodies}@TSDM, [email protected]

---
本资源扫图格式为 WebP,浏览详情请参见 https://vcb-s.com/archives/7949。
Please refer to https://vcb-s.com/archives/7949 if you have trouble viewing WebP images.

有关 TSDM 合购区的详情请参见 https://www.tsdm39.net/forum.php?mod=viewthread&tid=879923。
Please refer to https://www.tsdm39.net/forum.php?mod=viewthread&tid=879923 for more information about jointly purchased music.

基础播放器教程: PotPlayer / MPC-HC / IINA
进阶播放器教程: madVR / PotPlayer+madVR / mpv
中文字幕分享区: Anime 分享论坛(请善用搜索)
项目计划与列表: VCB-Studio 项目列表(每月初更新)

---
Comparison (right click on the image and open it in a new tab to see the full-size one)
Source________________________________________________Encode
会员专用连接: [Nekomoe kissaten&VCB-Studio] Isekai Maou to Shoukan Shoujo no Dorei Majutsu Ω / 异世界魔王与召唤少女的奴隶魔术Ω 10-bit 1080p HEVC BDRip [Fin]
Magnet连接: magnet:?xt=urn:btih:AIWSUK3YBYLTEBLVWD2DRGFER3SY3HBO
Magnet连接typeII: magnet:?xt=urn:btih:022d2a2b780e17320575b0f43898a48ee58d9c2e
弹幕播放连接: ddplay:magnet:?xt=urn:btih:AIWSUK3YBYLTEBLVWD2DRGFER3SY3HBO 播放器官方下载地址
外部搜索连接: 从谷歌搜索资源种子
---
[Nekomoe kissaten&VCB-Studio] Isekai Maou to Shoukan Shoujo no Dorei Majutsu Omega [Ma10p_1080p]/[Nekomoe kissaten&VCB-Studio] Isekai Maou to Shoukan Shoujo no Dorei Majutsu Omega [01][Ma10p_1080p][x265_flac].mkv 1.1GB
[Nekomoe kissaten&VCB-Studio] Isekai Maou to Shoukan Shoujo no Dorei Majutsu Omega [Ma10p_1080p]/[Nekomoe kissaten&VCB-Studio] Isekai Maou to Shoukan Shoujo no Dorei Majutsu Omega [01][Ma10p_1080p][x265_flac].sc.ass 147.6KB
[Nekomoe kissaten&VCB-Studio] Isekai Maou to Shoukan Shoujo no Dorei Majutsu Omega [Ma10p_1080p]/[Nekomoe kissaten&VCB-Studio] Isekai Maou to Shoukan Shoujo no Dorei Majutsu Omega [01][Ma10p_1080p][x265_flac].tc.ass 147.9KB
[Nekomoe kissaten&VCB-Studio] Isekai Maou to Shoukan Shoujo no Dorei Majutsu Omega [Ma10p_1080p]/[Nekomoe kissaten&VCB-Studio] Isekai Maou to Shoukan Shoujo no Dorei Majutsu Omega [02][Ma10p_1080p][x265_flac].mkv 1.0GB
[Nekomoe kissaten&VCB-Studio] Isekai Maou to Shoukan Shoujo no Dorei Majutsu Omega [Ma10p_1080p]/[Nekomoe kissaten&VCB-Studio] Isekai Maou to Shoukan Shoujo no Dorei Majutsu Omega [02][Ma10p_1080p][x265_flac].sc.ass 657.4KB
[Nekomoe kissaten&VCB-Studio] Isekai Maou to Shoukan Shoujo no Dorei Majutsu Omega [Ma10p_1080p]/[Nekomoe kissaten&VCB-Studio] Isekai Maou to Shoukan Shoujo no Dorei Majutsu Omega [02][Ma10p_1080p][x265_flac].tc.ass 657KB
[Nekomoe kissaten&VCB-Studio] Isekai Maou to Shoukan Shoujo no Dorei Majutsu Omega [Ma10p_1080p]/[Nekomoe kissaten&VCB-Studio] Isekai Maou to Shoukan Shoujo no Dorei Majutsu Omega [03][Ma10p_1080p][x265_flac].mkv 1.0GB
[Nekomoe kissaten&VCB-Studio] Isekai Maou to Shoukan Shoujo no Dorei Majutsu Omega [Ma10p_1080p]/[Nekomoe kissaten&VCB-Studio] Isekai Maou to Shoukan Shoujo no Dorei Majutsu Omega [03][Ma10p_1080p][x265_flac].sc.ass 655.4KB
[Nekomoe kissaten&VCB-Studio] Isekai Maou to Shoukan Shoujo no Dorei Majutsu Omega [Ma10p_1080p]/[Nekomoe kissaten&VCB-Studio] Isekai Maou to Shoukan Shoujo no Dorei Majutsu Omega [03][Ma10p_1080p][x265_flac].tc.ass 655KB
[Nekomoe kissaten&VCB-Studio] Isekai Maou to Shoukan Shoujo no Dorei Majutsu Omega [Ma10p_1080p]/[Nekomoe kissaten&VCB-Studio] Isekai Maou to Shoukan Shoujo no Dorei Majutsu Omega [04][Ma10p_1080p][x265_flac].mkv 1.0GB
[Nekomoe kissaten&VCB-Studio] Isekai Maou to Shoukan Shoujo no Dorei Majutsu Omega [Ma10p_1080p]/[Nekomoe kissaten&VCB-Studio] Isekai Maou to Shoukan Shoujo no Dorei Majutsu Omega [04][Ma10p_1080p][x265_flac].sc.ass 144.8KB
[Nekomoe kissaten&VCB-Studio] Isekai Maou to Shoukan Shoujo no Dorei Majutsu Omega [Ma10p_1080p]/[Nekomoe kissaten&VCB-Studio] Isekai Maou to Shoukan Shoujo no Dorei Majutsu Omega [04][Ma10p_1080p][x265_flac].tc.ass 144.6KB
[Nekomoe kissaten&VCB-Studio] Isekai Maou to Shoukan Shoujo no Dorei Majutsu Omega [Ma10p_1080p]/[Nekomoe kissaten&VCB-Studio] Isekai Maou to Shoukan Shoujo no Dorei Majutsu Omega [05][Ma10p_1080p][x265_flac].mkv 1023.8MB
[Nekomoe kissaten&VCB-Studio] Isekai Maou to Shoukan Shoujo no Dorei Majutsu Omega [Ma10p_1080p]/[Nekomoe kissaten&VCB-Studio] Isekai Maou to Shoukan Shoujo no Dorei Majutsu Omega [05][Ma10p_1080p][x265_flac].sc.ass 143.7KB
[Nekomoe kissaten&VCB-Studio] Isekai Maou to Shoukan Shoujo no Dorei Majutsu Omega [Ma10p_1080p]/[Nekomoe kissaten&VCB-Studio] Isekai Maou to Shoukan Shoujo no Dorei Majutsu Omega [05][Ma10p_1080p][x265_flac].tc.ass 144KB
[Nekomoe kissaten&VCB-Studio] Isekai Maou to Shoukan Shoujo no Dorei Majutsu Omega [Ma10p_1080p]/[Nekomoe kissaten&VCB-Studio] Isekai Maou to Shoukan Shoujo no Dorei Majutsu Omega [06][Ma10p_1080p][x265_flac].mkv 1.1GB
[Nekomoe kissaten&VCB-Studio] Isekai Maou to Shoukan Shoujo no Dorei Majutsu Omega [Ma10p_1080p]/[Nekomoe kissaten&VCB-Studio] Isekai Maou to Shoukan Shoujo no Dorei Majutsu Omega [06][Ma10p_1080p][x265_flac].sc.ass 655.2KB
[Nekomoe kissaten&VCB-Studio] Isekai Maou to Shoukan Shoujo no Dorei Majutsu Omega [Ma10p_1080p]/[Nekomoe kissaten&VCB-Studio] Isekai Maou to Shoukan Shoujo no Dorei Majutsu Omega [06][Ma10p_1080p][x265_flac].tc.ass 654.8KB
[Nekomoe kissaten&VCB-Studio] Isekai Maou to Shoukan Shoujo no Dorei Majutsu Omega [Ma10p_1080p]/[Nekomoe kissaten&VCB-Studio] Isekai Maou to Shoukan Shoujo no Dorei Majutsu Omega [07][Ma10p_1080p][x265_flac].mkv 907.6MB
[Nekomoe kissaten&VCB-Studio] Isekai Maou to Shoukan Shoujo no Dorei Majutsu Omega [Ma10p_1080p]/[Nekomoe kissaten&VCB-Studio] Isekai Maou to Shoukan Shoujo no Dorei Majutsu Omega [07][Ma10p_1080p][x265_flac].sc.ass 143.5KB
[Nekomoe kissaten&VCB-Studio] Isekai Maou to Shoukan Shoujo no Dorei Majutsu Omega [Ma10p_1080p]/[Nekomoe kissaten&VCB-Studio] Isekai Maou to Shoukan Shoujo no Dorei Majutsu Omega [07][Ma10p_1080p][x265_flac].tc.ass 659.1KB
[Nekomoe kissaten&VCB-Studio] Isekai Maou to Shoukan Shoujo no Dorei Majutsu Omega [Ma10p_1080p]/[Nekomoe kissaten&VCB-Studio] Isekai Maou to Shoukan Shoujo no Dorei Majutsu Omega [08][Ma10p_1080p][x265_flac].mkv 862MB
[Nekomoe kissaten&VCB-Studio] Isekai Maou to Shoukan Shoujo no Dorei Majutsu Omega [Ma10p_1080p]/[Nekomoe kissaten&VCB-Studio] Isekai Maou to Shoukan Shoujo no Dorei Majutsu Omega [08][Ma10p_1080p][x265_flac].sc.ass 149KB
[Nekomoe kissaten&VCB-Studio] Isekai Maou to Shoukan Shoujo no Dorei Majutsu Omega [Ma10p_1080p]/[Nekomoe kissaten&VCB-Studio] Isekai Maou to Shoukan Shoujo no Dorei Majutsu Omega [08][Ma10p_1080p][x265_flac].tc.ass 149.3KB
[Nekomoe kissaten&VCB-Studio] Isekai Maou to Shoukan Shoujo no Dorei Majutsu Omega [Ma10p_1080p]/[Nekomoe kissaten&VCB-Studio] Isekai Maou to Shoukan Shoujo no Dorei Majutsu Omega [09][Ma10p_1080p][x265_flac].mkv 1.0GB
[Nekomoe kissaten&VCB-Studio] Isekai Maou to Shoukan Shoujo no Dorei Majutsu Omega [Ma10p_1080p]/[Nekomoe kissaten&VCB-Studio] Isekai Maou to Shoukan Shoujo no Dorei Majutsu Omega [09][Ma10p_1080p][x265_flac].sc.ass 655.8KB
[Nekomoe kissaten&VCB-Studio] Isekai Maou to Shoukan Shoujo no Dorei Majutsu Omega [Ma10p_1080p]/[Nekomoe kissaten&VCB-Studio] Isekai Maou to Shoukan Shoujo no Dorei Majutsu Omega [09][Ma10p_1080p][x265_flac].tc.ass 655.3KB
[Nekomoe kissaten&VCB-Studio] Isekai Maou to Shoukan Shoujo no Dorei Majutsu Omega [Ma10p_1080p]/[Nekomoe kissaten&VCB-Studio] Isekai Maou to Shoukan Shoujo no Dorei Majutsu Omega [10][Ma10p_1080p][x265_flac].mkv 980.3MB
[Nekomoe kissaten&VCB-Studio] Isekai Maou to Shoukan Shoujo no Dorei Majutsu Omega [Ma10p_1080p]/[Nekomoe kissaten&VCB-Studio] Isekai Maou to Shoukan Shoujo no Dorei Majutsu Omega [10][Ma10p_1080p][x265_flac].sc.ass 36.9KB
[Nekomoe kissaten&VCB-Studio] Isekai Maou to Shoukan Shoujo no Dorei Majutsu Omega [Ma10p_1080p]/[Nekomoe kissaten&VCB-Studio] Isekai Maou to Shoukan Shoujo no Dorei Majutsu Omega [10][Ma10p_1080p][x265_flac].tc.ass 37.2KB
[Nekomoe kissaten&VCB-Studio] Isekai Maou to Shoukan Shoujo no Dorei Majutsu Omega [Ma10p_1080p]/[Nekomoe kissaten&VCB-Studio] Isekai Maou to Shoukan Shoujo no Dorei Majutsu Omega [Fonts].7z 29.8MB
[Nekomoe kissaten&VCB-Studio] Isekai Maou to Shoukan Shoujo no Dorei Majutsu Omega [Ma10p_1080p]/CDs/[210506] 「EVERYBODY! EVERYBODY!/YOU YOU YOU」 [24bit_96kHz] (flac)/01. EVERYBODY! EVERYBODY!.flac 122.3MB
[Nekomoe kissaten&VCB-Studio] Isekai Maou to Shoukan Shoujo no Dorei Majutsu Omega [Ma10p_1080p]/CDs/[210506] 「EVERYBODY! EVERYBODY!/YOU YOU YOU」 [24bit_96kHz] (flac)/02. YOU YOU YOU.flac 98.5MB
[Nekomoe kissaten&VCB-Studio] Isekai Maou to Shoukan Shoujo no Dorei Majutsu Omega [Ma10p_1080p]/CDs/[210506] 「EVERYBODY! EVERYBODY!/YOU YOU YOU」 [24bit_96kHz] (flac)/03. EVERYBODY! EVERYBODY! (Instrumental).flac 121.4MB
[Nekomoe kissaten&VCB-Studio] Isekai Maou to Shoukan Shoujo no Dorei Majutsu Omega [Ma10p_1080p]/CDs/[210506] 「EVERYBODY! EVERYBODY!/YOU YOU YOU」 [24bit_96kHz] (flac)/04. YOU YOU YOU (Instrumental).flac 95.5MB
[Nekomoe kissaten&VCB-Studio] Isekai Maou to Shoukan Shoujo no Dorei Majutsu Omega [Ma10p_1080p]/CDs/[210506] 「EVERYBODY! EVERYBODY!/YOU YOU YOU」 [24bit_96kHz] (flac)/05. EVERYBODY! EVERYBODY! (w-o 芹泽 优).flac 122.1MB
[Nekomoe kissaten&VCB-Studio] Isekai Maou to Shoukan Shoujo no Dorei Majutsu Omega [Ma10p_1080p]/CDs/[210506] 「EVERYBODY! EVERYBODY!/YOU YOU YOU」 [24bit_96kHz] (flac)/06. YOU YOU YOU (w-o 芹泽 优).flac 97.3MB
[Nekomoe kissaten&VCB-Studio] Isekai Maou to Shoukan Shoujo no Dorei Majutsu Omega [Ma10p_1080p]/CDs/[210506] 「EVERYBODY! EVERYBODY!/YOU YOU YOU」 [24bit_96kHz] (flac)/07. EVERYBODY! EVERYBODY! (w-o DJ KOO & MOTSU).flac 121.8MB
[Nekomoe kissaten&VCB-Studio] Isekai Maou to Shoukan Shoujo no Dorei Majutsu Omega [Ma10p_1080p]/CDs/[210506] 「EVERYBODY! EVERYBODY!/YOU YOU YOU」 [24bit_96kHz] (flac)/08. YOU YOU YOU (w-o DJ KOO & MOTSU).flac 97.8MB
[Nekomoe kissaten&VCB-Studio] Isekai Maou to Shoukan Shoujo no Dorei Majutsu Omega [Ma10p_1080p]/CDs/[210506] 「EVERYBODY! EVERYBODY!/YOU YOU YOU」 [24bit_96kHz] (flac)/09. 芹泽 优mora限定スペシャルボイス.flac 64.6MB
[Nekomoe kissaten&VCB-Studio] Isekai Maou to Shoukan Shoujo no Dorei Majutsu Omega [Ma10p_1080p]/CDs/[210506] 「EVERYBODY! EVERYBODY!/YOU YOU YOU」 [24bit_96kHz] (flac)/天使动漫自购转载声明.txt 1021Bytes
[Nekomoe kissaten&VCB-Studio] Isekai Maou to Shoukan Shoujo no Dorei Majutsu Omega [Ma10p_1080p]/CDs/[210625] SPCD 01 (flac)/01. Dangerous Escape.flac 12.2MB
[Nekomoe kissaten&VCB-Studio] Isekai Maou to Shoukan Shoujo no Dorei Majutsu Omega [Ma10p_1080p]/CDs/[210625] SPCD 01 (flac)/02. Chaotic Haze.flac 6.6MB
[Nekomoe kissaten&VCB-Studio] Isekai Maou to Shoukan Shoujo no Dorei Majutsu Omega [Ma10p_1080p]/CDs/[210625] SPCD 01 (flac)/03. 絶望の狂騒.flac 10.7MB
[Nekomoe kissaten&VCB-Studio] Isekai Maou to Shoukan Shoujo no Dorei Majutsu Omega [Ma10p_1080p]/CDs/[210625] SPCD 01 (flac)/04. Damnation.flac 11.2MB
[Nekomoe kissaten&VCB-Studio] Isekai Maou to Shoukan Shoujo no Dorei Majutsu Omega [Ma10p_1080p]/CDs/[210625] SPCD 01 (flac)/05. ある日の风景.flac 8.7MB
[Nekomoe kissaten&VCB-Studio] Isekai Maou to Shoukan Shoujo no Dorei Majutsu Omega [Ma10p_1080p]/CDs/[210625] SPCD 01 (flac)/06. 楽観主义.flac 8.4MB
[Nekomoe kissaten&VCB-Studio] Isekai Maou to Shoukan Shoujo no Dorei Majutsu Omega [Ma10p_1080p]/CDs/[210625] SPCD 01 (flac)/07. 出発の时.flac 9.5MB
[Nekomoe kissaten&VCB-Studio] Isekai Maou to Shoukan Shoujo no Dorei Majutsu Omega [Ma10p_1080p]/CDs/[210625] SPCD 01 (flac)/08. 欲望の首轮.flac 12.8MB
[Nekomoe kissaten&VCB-Studio] Isekai Maou to Shoukan Shoujo no Dorei Majutsu Omega [Ma10p_1080p]/CDs/[210625] SPCD 01 (flac)/09. 小物感.flac 7.1MB
[Nekomoe kissaten&VCB-Studio] Isekai Maou to Shoukan Shoujo no Dorei Majutsu Omega [Ma10p_1080p]/CDs/[210625] SPCD 01 (flac)/10. 疑念の影.flac 8.7MB
[Nekomoe kissaten&VCB-Studio] Isekai Maou to Shoukan Shoujo no Dorei Majutsu Omega [Ma10p_1080p]/CDs/[210625] SPCD 01 (flac)/11. Fervent Strike.flac 12.3MB
[Nekomoe kissaten&VCB-Studio] Isekai Maou to Shoukan Shoujo no Dorei Majutsu Omega [Ma10p_1080p]/CDs/[210625] SPCD 01 (flac)/12. Demon Lord.flac 11.4MB
[Nekomoe kissaten&VCB-Studio] Isekai Maou to Shoukan Shoujo no Dorei Majutsu Omega [Ma10p_1080p]/CDs/[210625] SPCD 01 (flac)/13. 悦楽の极み.flac 13.1MB
[Nekomoe kissaten&VCB-Studio] Isekai Maou to Shoukan Shoujo no Dorei Majutsu Omega [Ma10p_1080p]/CDs/[210625] SPCD 01 (flac)/14. 拗ねてるけど?.flac 7.7MB
[Nekomoe kissaten&VCB-Studio] Isekai Maou to Shoukan Shoujo no Dorei Majutsu Omega [Ma10p_1080p]/CDs/[210625] SPCD 01 (flac)/15. 狼狈する者.flac 5.2MB
[Nekomoe kissaten&VCB-Studio] Isekai Maou to Shoukan Shoujo no Dorei Majutsu Omega [Ma10p_1080p]/CDs/[210625] SPCD 01 (flac)/16. Glorious Sacred Holy Divine Light.flac 11.5MB
[Nekomoe kissaten&VCB-Studio] Isekai Maou to Shoukan Shoujo no Dorei Majutsu Omega [Ma10p_1080p]/CDs/[210625] SPCD 01 (flac)/17. 枯れた都.flac 9.7MB
[Nekomoe kissaten&VCB-Studio] Isekai Maou to Shoukan Shoujo no Dorei Majutsu Omega [Ma10p_1080p]/CDs/[210625] SPCD 01 (flac)/18. Over Drive Fanfare.flac 11.5MB
[Nekomoe kissaten&VCB-Studio] Isekai Maou to Shoukan Shoujo no Dorei Majutsu Omega [Ma10p_1080p]/CDs/[210625] SPCD 01 (flac)/19. 深渊の阴谋.flac 8.4MB
[Nekomoe kissaten&VCB-Studio] Isekai Maou to Shoukan Shoujo no Dorei Majutsu Omega [Ma10p_1080p]/CDs/[210625] SPCD 01 (flac)/20. Diablo.flac 11.8MB
[Nekomoe kissaten&VCB-Studio] Isekai Maou to Shoukan Shoujo no Dorei Majutsu Omega [Ma10p_1080p]/CDs/[210625] SPCD 01 (flac)/21. 立ち上がる决意.flac 13.1MB
[Nekomoe kissaten&VCB-Studio] Isekai Maou to Shoukan Shoujo no Dorei Majutsu Omega [Ma10p_1080p]/CDs/[210625] SPCD 01 (flac)/22. 予告.flac 2.1MB
[Nekomoe kissaten&VCB-Studio] Isekai Maou to Shoukan Shoujo no Dorei Majutsu Omega [Ma10p_1080p]/CDs/[210625] SPCD 01 (flac)/EYXA-13368B.log 22.2KB
[Nekomoe kissaten&VCB-Studio] Isekai Maou to Shoukan Shoujo no Dorei Majutsu Omega [Ma10p_1080p]/CDs/[210730] SPCD 02 (flac)/01. Overwhelming Invasion.flac 11.3MB
[Nekomoe kissaten&VCB-Studio] Isekai Maou to Shoukan Shoujo no Dorei Majutsu Omega [Ma10p_1080p]/CDs/[210730] SPCD 02 (flac)/02. 危・スタッカート.flac 10.3MB
[Nekomoe kissaten&VCB-Studio] Isekai Maou to Shoukan Shoujo no Dorei Majutsu Omega [Ma10p_1080p]/CDs/[210730] SPCD 02 (flac)/03. 慌てふためく者.flac 12MB
[Nekomoe kissaten&VCB-Studio] Isekai Maou to Shoukan Shoujo no Dorei Majutsu Omega [Ma10p_1080p]/CDs/[210730] SPCD 02 (flac)/04. 软弱な者.flac 6.1MB
[Nekomoe kissaten&VCB-Studio] Isekai Maou to Shoukan Shoujo no Dorei Majutsu Omega [Ma10p_1080p]/CDs/[210730] SPCD 02 (flac)/05. 邪素.flac 7.4MB
[Nekomoe kissaten&VCB-Studio] Isekai Maou to Shoukan Shoujo no Dorei Majutsu Omega [Ma10p_1080p]/CDs/[210730] SPCD 02 (flac)/06. 魔力咆哮.flac 9.1MB
[Nekomoe kissaten&VCB-Studio] Isekai Maou to Shoukan Shoujo no Dorei Majutsu Omega [Ma10p_1080p]/CDs/[210730] SPCD 02 (flac)/07. 顽张っている君だから.flac 36.7MB
[Nekomoe kissaten&VCB-Studio] Isekai Maou to Shoukan Shoujo no Dorei Majutsu Omega [Ma10p_1080p]/CDs/[210730] SPCD 02 (flac)/08. 进め!レッツゴー!.flac 13.9MB
[Nekomoe kissaten&VCB-Studio] Isekai Maou to Shoukan Shoujo no Dorei Majutsu Omega [Ma10p_1080p]/CDs/[210730] SPCD 02 (flac)/09. Kindness of Heart.flac 5.9MB
[Nekomoe kissaten&VCB-Studio] Isekai Maou to Shoukan Shoujo no Dorei Majutsu Omega [Ma10p_1080p]/CDs/[210730] SPCD 02 (flac)/10. Resurrection of Darkness.flac 19.4MB
[Nekomoe kissaten&VCB-Studio] Isekai Maou to Shoukan Shoujo no Dorei Majutsu Omega [Ma10p_1080p]/CDs/[210730] SPCD 02 (flac)/11. Serious Problem.flac 10.5MB
[Nekomoe kissaten&VCB-Studio] Isekai Maou to Shoukan Shoujo no Dorei Majutsu Omega [Ma10p_1080p]/CDs/[210730] SPCD 02 (flac)/12. レベルアップマーチ.flac 9.7MB
[Nekomoe kissaten&VCB-Studio] Isekai Maou to Shoukan Shoujo no Dorei Majutsu Omega [Ma10p_1080p]/CDs/[210730] SPCD 02 (flac)/13. 気挂かりな袭撃.flac 12MB
[Nekomoe kissaten&VCB-Studio] Isekai Maou to Shoukan Shoujo no Dorei Majutsu Omega [Ma10p_1080p]/CDs/[210730] SPCD 02 (flac)/14. 召唤.flac 11.8MB
[Nekomoe kissaten&VCB-Studio] Isekai Maou to Shoukan Shoujo no Dorei Majutsu Omega [Ma10p_1080p]/CDs/[210730] SPCD 02 (flac)/15. 崇高なる骑士.flac 10.1MB
[Nekomoe kissaten&VCB-Studio] Isekai Maou to Shoukan Shoujo no Dorei Majutsu Omega [Ma10p_1080p]/CDs/[210730] SPCD 02 (flac)/16. Burning Fury.flac 9.6MB
[Nekomoe kissaten&VCB-Studio] Isekai Maou to Shoukan Shoujo no Dorei Majutsu Omega [Ma10p_1080p]/CDs/[210730] SPCD 02 (flac)/17. 溶解魔道.flac 9.5MB
[Nekomoe kissaten&VCB-Studio] Isekai Maou to Shoukan Shoujo no Dorei Majutsu Omega [Ma10p_1080p]/CDs/[210730] SPCD 02 (flac)/18. 戸惑いの中で.flac 7.4MB
[Nekomoe kissaten&VCB-Studio] Isekai Maou to Shoukan Shoujo no Dorei Majutsu Omega [Ma10p_1080p]/CDs/[210730] SPCD 02 (flac)/19. Power of the Abyss.flac 10.3MB
[Nekomoe kissaten&VCB-Studio] Isekai Maou to Shoukan Shoujo no Dorei Majutsu Omega [Ma10p_1080p]/CDs/[210730] SPCD 02 (flac)/20. Resolve.flac 9.3MB
[Nekomoe kissaten&VCB-Studio] Isekai Maou to Shoukan Shoujo no Dorei Majutsu Omega [Ma10p_1080p]/CDs/[210730] SPCD 02 (flac)/21. D的纯情.flac 10.5MB
[Nekomoe kissaten&VCB-Studio] Isekai Maou to Shoukan Shoujo no Dorei Majutsu Omega [Ma10p_1080p]/CDs/[210730] SPCD 02 (flac)/22. 梦语り.flac 7.7MB
[Nekomoe kissaten&VCB-Studio] Isekai Maou to Shoukan Shoujo no Dorei Majutsu Omega [Ma10p_1080p]/CDs/[210730] SPCD 02 (flac)/EYXA-13369B.log 22.2KB
[Nekomoe kissaten&VCB-Studio] Isekai Maou to Shoukan Shoujo no Dorei Majutsu Omega [Ma10p_1080p]/CDs/[210827] SPCD 03 (flac)/01. Tense Confrontation.flac 13.1MB
[Nekomoe kissaten&VCB-Studio] Isekai Maou to Shoukan Shoujo no Dorei Majutsu Omega [Ma10p_1080p]/CDs/[210827] SPCD 03 (flac)/02. 思い出の痛み.flac 7.8MB
[Nekomoe kissaten&VCB-Studio] Isekai Maou to Shoukan Shoujo no Dorei Majutsu Omega [Ma10p_1080p]/CDs/[210827] SPCD 03 (flac)/03. Horizon.flac 9.9MB
[Nekomoe kissaten&VCB-Studio] Isekai Maou to Shoukan Shoujo no Dorei Majutsu Omega [Ma10p_1080p]/CDs/[210827] SPCD 03 (flac)/04. Rite of Ruin.flac 9.8MB
[Nekomoe kissaten&VCB-Studio] Isekai Maou to Shoukan Shoujo no Dorei Majutsu Omega [Ma10p_1080p]/CDs/[210827] SPCD 03 (flac)/05. 肌色リズム.flac 11.2MB
[Nekomoe kissaten&VCB-Studio] Isekai Maou to Shoukan Shoujo no Dorei Majutsu Omega [Ma10p_1080p]/CDs/[210827] SPCD 03 (flac)/06. 召唤の仪.flac 10.5MB
[Nekomoe kissaten&VCB-Studio] Isekai Maou to Shoukan Shoujo no Dorei Majutsu Omega [Ma10p_1080p]/CDs/[210827] SPCD 03 (flac)/07. Conflict.flac 15.8MB
[Nekomoe kissaten&VCB-Studio] Isekai Maou to Shoukan Shoujo no Dorei Majutsu Omega [Ma10p_1080p]/CDs/[210827] SPCD 03 (flac)/08. Erlkönig Barock.flac 12.6MB
[Nekomoe kissaten&VCB-Studio] Isekai Maou to Shoukan Shoujo no Dorei Majutsu Omega [Ma10p_1080p]/CDs/[210827] SPCD 03 (flac)/09. Fateful Showdown.flac 14.3MB
[Nekomoe kissaten&VCB-Studio] Isekai Maou to Shoukan Shoujo no Dorei Majutsu Omega [Ma10p_1080p]/CDs/[210827] SPCD 03 (flac)/10. 冲撃の震え.flac 10.5MB
[Nekomoe kissaten&VCB-Studio] Isekai Maou to Shoukan Shoujo no Dorei Majutsu Omega [Ma10p_1080p]/CDs/[210827] SPCD 03 (flac)/11. 大将军バナクネス.flac 11.3MB
[Nekomoe kissaten&VCB-Studio] Isekai Maou to Shoukan Shoujo no Dorei Majutsu Omega [Ma10p_1080p]/CDs/[210827] SPCD 03 (flac)/12. 危机来袭.flac 18.6MB
[Nekomoe kissaten&VCB-Studio] Isekai Maou to Shoukan Shoujo no Dorei Majutsu Omega [Ma10p_1080p]/CDs/[210827] SPCD 03 (flac)/13. 希望の前奏.flac 12.2MB
[Nekomoe kissaten&VCB-Studio] Isekai Maou to Shoukan Shoujo no Dorei Majutsu Omega [Ma10p_1080p]/CDs/[210827] SPCD 03 (flac)/14. Compassion of Lord.flac 11.5MB
[Nekomoe kissaten&VCB-Studio] Isekai Maou to Shoukan Shoujo no Dorei Majutsu Omega [Ma10p_1080p]/CDs/[210827] SPCD 03 (flac)/15. 幼き温もりと….flac 7MB
[Nekomoe kissaten&VCB-Studio] Isekai Maou to Shoukan Shoujo no Dorei Majutsu Omega [Ma10p_1080p]/CDs/[210827] SPCD 03 (flac)/16. Take a break.flac 10.4MB
[Nekomoe kissaten&VCB-Studio] Isekai Maou to Shoukan Shoujo no Dorei Majutsu Omega [Ma10p_1080p]/CDs/[210827] SPCD 03 (flac)/17. 癒される时.flac 10.6MB
[Nekomoe kissaten&VCB-Studio] Isekai Maou to Shoukan Shoujo no Dorei Majutsu Omega [Ma10p_1080p]/CDs/[210827] SPCD 03 (flac)/18. Long time no see.flac 8.6MB
[Nekomoe kissaten&VCB-Studio] Isekai Maou to Shoukan Shoujo no Dorei Majutsu Omega [Ma10p_1080p]/CDs/[210827] SPCD 03 (flac)/19. ユキノトビラ.flac 12.3MB
[Nekomoe kissaten&VCB-Studio] Isekai Maou to Shoukan Shoujo no Dorei Majutsu Omega [Ma10p_1080p]/CDs/[210827] SPCD 03 (flac)/20. 幻惑の笛.flac 6.1MB
[Nekomoe kissaten&VCB-Studio] Isekai Maou to Shoukan Shoujo no Dorei Majutsu Omega [Ma10p_1080p]/CDs/[210827] SPCD 03 (flac)/21. ビスケットの歌.flac 4.1MB
[Nekomoe kissaten&VCB-Studio] Isekai Maou to Shoukan Shoujo no Dorei Majutsu Omega [Ma10p_1080p]/CDs/[210827] SPCD 03 (flac)/22. Fateful Recall.flac 2.8MB
[Nekomoe kissaten&VCB-Studio] Isekai Maou to Shoukan Shoujo no Dorei Majutsu Omega [Ma10p_1080p]/CDs/[210827] SPCD 03 (flac)/EYXA-13370B.log 22.4KB
[Nekomoe kissaten&VCB-Studio] Isekai Maou to Shoukan Shoujo no Dorei Majutsu Omega [Ma10p_1080p]/Scans/Vol.1/01.webp 4.8MB
[Nekomoe kissaten&VCB-Studio] Isekai Maou to Shoukan Shoujo no Dorei Majutsu Omega [Ma10p_1080p]/Scans/Vol.1/02.webp 5.5MB
[Nekomoe kissaten&VCB-Studio] Isekai Maou to Shoukan Shoujo no Dorei Majutsu Omega [Ma10p_1080p]/Scans/Vol.1/03.webp 485.6KB
[Nekomoe kissaten&VCB-Studio] Isekai Maou to Shoukan Shoujo no Dorei Majutsu Omega [Ma10p_1080p]/Scans/Vol.1/04.webp 1.9MB
[Nekomoe kissaten&VCB-Studio] Isekai Maou to Shoukan Shoujo no Dorei Majutsu Omega [Ma10p_1080p]/Scans/Vol.1/05.webp 313.4KB
[Nekomoe kissaten&VCB-Studio] Isekai Maou to Shoukan Shoujo no Dorei Majutsu Omega [Ma10p_1080p]/Scans/Vol.1/06.webp 366KB
[Nekomoe kissaten&VCB-Studio] Isekai Maou to Shoukan Shoujo no Dorei Majutsu Omega [Ma10p_1080p]/Scans/Vol.1/07.webp 2.6MB
[Nekomoe kissaten&VCB-Studio] Isekai Maou to Shoukan Shoujo no Dorei Majutsu Omega [Ma10p_1080p]/Scans/Vol.1/08.webp 9.4MB
[Nekomoe kissaten&VCB-Studio] Isekai Maou to Shoukan Shoujo no Dorei Majutsu Omega [Ma10p_1080p]/Scans/Vol.1/09.webp 6.1MB
[Nekomoe kissaten&VCB-Studio] Isekai Maou to Shoukan Shoujo no Dorei Majutsu Omega [Ma10p_1080p]/Scans/Vol.1/10.webp 1.2MB
[Nekomoe kissaten&VCB-Studio] Isekai Maou to Shoukan Shoujo no Dorei Majutsu Omega [Ma10p_1080p]/Scans/Vol.1/11.webp 379KB
[Nekomoe kissaten&VCB-Studio] Isekai Maou to Shoukan Shoujo no Dorei Majutsu Omega [Ma10p_1080p]/Scans/Vol.1/12.webp 10.9MB
[Nekomoe kissaten&VCB-Studio] Isekai Maou to Shoukan Shoujo no Dorei Majutsu Omega [Ma10p_1080p]/Scans/Vol.1/13.webp 6.3MB
[Nekomoe kissaten&VCB-Studio] Isekai Maou to Shoukan Shoujo no Dorei Majutsu Omega [Ma10p_1080p]/Scans/Vol.1/14.webp 3.9MB
[Nekomoe kissaten&VCB-Studio] Isekai Maou to Shoukan Shoujo no Dorei Majutsu Omega [Ma10p_1080p]/Scans/Vol.1/15.webp 4.5MB
[Nekomoe kissaten&VCB-Studio] Isekai Maou to Shoukan Shoujo no Dorei Majutsu Omega [Ma10p_1080p]/Scans/Vol.1/16.webp 495.4KB
[Nekomoe kissaten&VCB-Studio] Isekai Maou to Shoukan Shoujo no Dorei Majutsu Omega [Ma10p_1080p]/Scans/Vol.1/17.webp 3.4MB
[Nekomoe kissaten&VCB-Studio] Isekai Maou to Shoukan Shoujo no Dorei Majutsu Omega [Ma10p_1080p]/Scans/Vol.1/18.webp 3.2MB
[Nekomoe kissaten&VCB-Studio] Isekai Maou to Shoukan Shoujo no Dorei Majutsu Omega [Ma10p_1080p]/Scans/Vol.1/19.webp 3.1MB
[Nekomoe kissaten&VCB-Studio] Isekai Maou to Shoukan Shoujo no Dorei Majutsu Omega [Ma10p_1080p]/Scans/Vol.1/20.webp 1.3MB
[Nekomoe kissaten&VCB-Studio] Isekai Maou to Shoukan Shoujo no Dorei Majutsu Omega [Ma10p_1080p]/Scans/Vol.1/21.webp 2.9MB
[Nekomoe kissaten&VCB-Studio] Isekai Maou to Shoukan Shoujo no Dorei Majutsu Omega [Ma10p_1080p]/Scans/Vol.1/22.webp 342.1KB
[Nekomoe kissaten&VCB-Studio] Isekai Maou to Shoukan Shoujo no Dorei Majutsu Omega [Ma10p_1080p]/Scans/Vol.1/23.webp 596.4KB
[Nekomoe kissaten&VCB-Studio] Isekai Maou to Shoukan Shoujo no Dorei Majutsu Omega [Ma10p_1080p]/Scans/Vol.1/24.webp 756KB
[Nekomoe kissaten&VCB-Studio] Isekai Maou to Shoukan Shoujo no Dorei Majutsu Omega [Ma10p_1080p]/Scans/Vol.1/25.webp 730.9KB
[Nekomoe kissaten&VCB-Studio] Isekai Maou to Shoukan Shoujo no Dorei Majutsu Omega [Ma10p_1080p]/Scans/Vol.1/26.webp 683.7KB
[Nekomoe kissaten&VCB-Studio] Isekai Maou to Shoukan Shoujo no Dorei Majutsu Omega [Ma10p_1080p]/Scans/Vol.1/27.webp 707.2KB
[Nekomoe kissaten&VCB-Studio] Isekai Maou to Shoukan Shoujo no Dorei Majutsu Omega [Ma10p_1080p]/Scans/Vol.1/28.webp 728KB
[Nekomoe kissaten&VCB-Studio] Isekai Maou to Shoukan Shoujo no Dorei Majutsu Omega [Ma10p_1080p]/Scans/Vol.1/29.webp 740KB
[Nekomoe kissaten&VCB-Studio] Isekai Maou to Shoukan Shoujo no Dorei Majutsu Omega [Ma10p_1080p]/Scans/Vol.1/30.webp 719.2KB
[Nekomoe kissaten&VCB-Studio] Isekai Maou to Shoukan Shoujo no Dorei Majutsu Omega [Ma10p_1080p]/Scans/Vol.1/31.webp 696.9KB
[Nekomoe kissaten&VCB-Studio] Isekai Maou to Shoukan Shoujo no Dorei Majutsu Omega [Ma10p_1080p]/Scans/Vol.1/32.webp 678.9KB
[Nekomoe kissaten&VCB-Studio] Isekai Maou to Shoukan Shoujo no Dorei Majutsu Omega [Ma10p_1080p]/Scans/Vol.1/33.webp 512.5KB
[Nekomoe kissaten&VCB-Studio] Isekai Maou to Shoukan Shoujo no Dorei Majutsu Omega [Ma10p_1080p]/Scans/Vol.2/01.webp 4.4MB
[Nekomoe kissaten&VCB-Studio] Isekai Maou to Shoukan Shoujo no Dorei Majutsu Omega [Ma10p_1080p]/Scans/Vol.2/02.webp 5.4MB
[Nekomoe kissaten&VCB-Studio] Isekai Maou to Shoukan Shoujo no Dorei Majutsu Omega [Ma10p_1080p]/Scans/Vol.2/03.webp 503KB
[Nekomoe kissaten&VCB-Studio] Isekai Maou to Shoukan Shoujo no Dorei Majutsu Omega [Ma10p_1080p]/Scans/Vol.2/04.webp 2.4MB
[Nekomoe kissaten&VCB-Studio] Isekai Maou to Shoukan Shoujo no Dorei Majutsu Omega [Ma10p_1080p]/Scans/Vol.2/05.webp 373KB
[Nekomoe kissaten&VCB-Studio] Isekai Maou to Shoukan Shoujo no Dorei Majutsu Omega [Ma10p_1080p]/Scans/Vol.2/06.webp 598KB
[Nekomoe kissaten&VCB-Studio] Isekai Maou to Shoukan Shoujo no Dorei Majutsu Omega [Ma10p_1080p]/Scans/Vol.2/07.webp 2.2MB
[Nekomoe kissaten&VCB-Studio] Isekai Maou to Shoukan Shoujo no Dorei Majutsu Omega [Ma10p_1080p]/Scans/Vol.2/08.webp 10MB
[Nekomoe kissaten&VCB-Studio] Isekai Maou to Shoukan Shoujo no Dorei Majutsu Omega [Ma10p_1080p]/Scans/Vol.2/09.webp 5.4MB
[Nekomoe kissaten&VCB-Studio] Isekai Maou to Shoukan Shoujo no Dorei Majutsu Omega [Ma10p_1080p]/Scans/Vol.2/10.webp 1.1MB
[Nekomoe kissaten&VCB-Studio] Isekai Maou to Shoukan Shoujo no Dorei Majutsu Omega [Ma10p_1080p]/Scans/Vol.2/11.webp 256.9KB
[Nekomoe kissaten&VCB-Studio] Isekai Maou to Shoukan Shoujo no Dorei Majutsu Omega [Ma10p_1080p]/Scans/Vol.2/12.webp 10.6MB
[Nekomoe kissaten&VCB-Studio] Isekai Maou to Shoukan Shoujo no Dorei Majutsu Omega [Ma10p_1080p]/Scans/Vol.2/13.webp 5.4MB
[Nekomoe kissaten&VCB-Studio] Isekai Maou to Shoukan Shoujo no Dorei Majutsu Omega [Ma10p_1080p]/Scans/Vol.2/14.webp 3.8MB
[Nekomoe kissaten&VCB-Studio] Isekai Maou to Shoukan Shoujo no Dorei Majutsu Omega [Ma10p_1080p]/Scans/Vol.2/15.webp 3.4MB
[Nekomoe kissaten&VCB-Studio] Isekai Maou to Shoukan Shoujo no Dorei Majutsu Omega [Ma10p_1080p]/Scans/Vol.2/16.webp 486.2KB
[Nekomoe kissaten&VCB-Studio] Isekai Maou to Shoukan Shoujo no Dorei Majutsu Omega [Ma10p_1080p]/Scans/Vol.2/17.webp 3.4MB
[Nekomoe kissaten&VCB-Studio] Isekai Maou to Shoukan Shoujo no Dorei Majutsu Omega [Ma10p_1080p]/Scans/Vol.2/18.webp 3MB
[Nekomoe kissaten&VCB-Studio] Isekai Maou to Shoukan Shoujo no Dorei Majutsu Omega [Ma10p_1080p]/Scans/Vol.2/19.webp 3MB
[Nekomoe kissaten&VCB-Studio] Isekai Maou to Shoukan Shoujo no Dorei Majutsu Omega [Ma10p_1080p]/Scans/Vol.2/20.webp 3.1MB
[Nekomoe kissaten&VCB-Studio] Isekai Maou to Shoukan Shoujo no Dorei Majutsu Omega [Ma10p_1080p]/Scans/Vol.2/21.webp 987.9KB
[Nekomoe kissaten&VCB-Studio] Isekai Maou to Shoukan Shoujo no Dorei Majutsu Omega [Ma10p_1080p]/Scans/Vol.2/22.webp 2.9MB
[Nekomoe kissaten&VCB-Studio] Isekai Maou to Shoukan Shoujo no Dorei Majutsu Omega [Ma10p_1080p]/Scans/Vol.2/23.webp 380.4KB
[Nekomoe kissaten&VCB-Studio] Isekai Maou to Shoukan Shoujo no Dorei Majutsu Omega [Ma10p_1080p]/Scans/Vol.2/24.webp 659.8KB
[Nekomoe kissaten&VCB-Studio] Isekai Maou to Shoukan Shoujo no Dorei Majutsu Omega [Ma10p_1080p]/Scans/Vol.2/25.webp 832.3KB
[Nekomoe kissaten&VCB-Studio] Isekai Maou to Shoukan Shoujo no Dorei Majutsu Omega [Ma10p_1080p]/Scans/Vol.2/26.webp 907.3KB
[Nekomoe kissaten&VCB-Studio] Isekai Maou to Shoukan Shoujo no Dorei Majutsu Omega [Ma10p_1080p]/Scans/Vol.2/27.webp 745.6KB
[Nekomoe kissaten&VCB-Studio] Isekai Maou to Shoukan Shoujo no Dorei Majutsu Omega [Ma10p_1080p]/Scans/Vol.2/28.webp 769.1KB
[Nekomoe kissaten&VCB-Studio] Isekai Maou to Shoukan Shoujo no Dorei Majutsu Omega [Ma10p_1080p]/Scans/Vol.2/29.webp 740.8KB
[Nekomoe kissaten&VCB-Studio] Isekai Maou to Shoukan Shoujo no Dorei Majutsu Omega [Ma10p_1080p]/Scans/Vol.2/30.webp 811.8KB
[Nekomoe kissaten&VCB-Studio] Isekai Maou to Shoukan Shoujo no Dorei Majutsu Omega [Ma10p_1080p]/Scans/Vol.2/31.webp 826.2KB
[Nekomoe kissaten&VCB-Studio] Isekai Maou to Shoukan Shoujo no Dorei Majutsu Omega [Ma10p_1080p]/Scans/Vol.2/32.webp 936.2KB
[Nekomoe kissaten&VCB-Studio] Isekai Maou to Shoukan Shoujo no Dorei Majutsu Omega [Ma10p_1080p]/Scans/Vol.2/33.webp 785.8KB
[Nekomoe kissaten&VCB-Studio] Isekai Maou to Shoukan Shoujo no Dorei Majutsu Omega [Ma10p_1080p]/Scans/Vol.2/34.webp 614.4KB
[Nekomoe kissaten&VCB-Studio] Isekai Maou to Shoukan Shoujo no Dorei Majutsu Omega [Ma10p_1080p]/Scans/Vol.3/01.webp 4.7MB
[Nekomoe kissaten&VCB-Studio] Isekai Maou to Shoukan Shoujo no Dorei Majutsu Omega [Ma10p_1080p]/Scans/Vol.3/02.webp 5.5MB
[Nekomoe kissaten&VCB-Studio] Isekai Maou to Shoukan Shoujo no Dorei Majutsu Omega [Ma10p_1080p]/Scans/Vol.3/03.webp 565.6KB
[Nekomoe kissaten&VCB-Studio] Isekai Maou to Shoukan Shoujo no Dorei Majutsu Omega [Ma10p_1080p]/Scans/Vol.3/04.webp 2.3MB
[Nekomoe kissaten&VCB-Studio] Isekai Maou to Shoukan Shoujo no Dorei Majutsu Omega [Ma10p_1080p]/Scans/Vol.3/05.webp 362.1KB
[Nekomoe kissaten&VCB-Studio] Isekai Maou to Shoukan Shoujo no Dorei Majutsu Omega [Ma10p_1080p]/Scans/Vol.3/06.webp 583.9KB
[Nekomoe kissaten&VCB-Studio] Isekai Maou to Shoukan Shoujo no Dorei Majutsu Omega [Ma10p_1080p]/Scans/Vol.3/07.webp 2MB
[Nekomoe kissaten&VCB-Studio] Isekai Maou to Shoukan Shoujo no Dorei Majutsu Omega [Ma10p_1080p]/Scans/Vol.3/08.webp 9.9MB
[Nekomoe kissaten&VCB-Studio] Isekai Maou to Shoukan Shoujo no Dorei Majutsu Omega [Ma10p_1080p]/Scans/Vol.3/09.webp 5.3MB
[Nekomoe kissaten&VCB-Studio] Isekai Maou to Shoukan Shoujo no Dorei Majutsu Omega [Ma10p_1080p]/Scans/Vol.3/10.webp 1.1MB
[Nekomoe kissaten&VCB-Studio] Isekai Maou to Shoukan Shoujo no Dorei Majutsu Omega [Ma10p_1080p]/Scans/Vol.3/11.webp 326.1KB
[Nekomoe kissaten&VCB-Studio] Isekai Maou to Shoukan Shoujo no Dorei Majutsu Omega [Ma10p_1080p]/Scans/Vol.3/12.webp 10.8MB
[Nekomoe kissaten&VCB-Studio] Isekai Maou to Shoukan Shoujo no Dorei Majutsu Omega [Ma10p_1080p]/Scans/Vol.3/13.webp 6MB
[Nekomoe kissaten&VCB-Studio] Isekai Maou to Shoukan Shoujo no Dorei Majutsu Omega [Ma10p_1080p]/Scans/Vol.3/14.webp 3.6MB
[Nekomoe kissaten&VCB-Studio] Isekai Maou to Shoukan Shoujo no Dorei Majutsu Omega [Ma10p_1080p]/Scans/Vol.3/15.webp 3.8MB
[Nekomoe kissaten&VCB-Studio] Isekai Maou to Shoukan Shoujo no Dorei Majutsu Omega [Ma10p_1080p]/Scans/Vol.3/16.webp 497.5KB
[Nekomoe kissaten&VCB-Studio] Isekai Maou to Shoukan Shoujo no Dorei Majutsu Omega [Ma10p_1080p]/Scans/Vol.3/17.webp 3.1MB
[Nekomoe kissaten&VCB-Studio] Isekai Maou to Shoukan Shoujo no Dorei Majutsu Omega [Ma10p_1080p]/Scans/Vol.3/18.webp 2.1MB
[Nekomoe kissaten&VCB-Studio] Isekai Maou to Shoukan Shoujo no Dorei Majutsu Omega [Ma10p_1080p]/Scans/Vol.3/19.webp 3.2MB
[Nekomoe kissaten&VCB-Studio] Isekai Maou to Shoukan Shoujo no Dorei Majutsu Omega [Ma10p_1080p]/Scans/Vol.3/20.webp 1MB
[Nekomoe kissaten&VCB-Studio] Isekai Maou to Shoukan Shoujo no Dorei Majutsu Omega [Ma10p_1080p]/Scans/Vol.3/21.webp 3.1MB
[Nekomoe kissaten&VCB-Studio] Isekai Maou to Shoukan Shoujo no Dorei Majutsu Omega [Ma10p_1080p]/Scans/Vol.3/22.webp 392.8KB
[Nekomoe kissaten&VCB-Studio] Isekai Maou to Shoukan Shoujo no Dorei Majutsu Omega [Ma10p_1080p]/Scans/Vol.3/23.webp 804.3KB
[Nekomoe kissaten&VCB-Studio] Isekai Maou to Shoukan Shoujo no Dorei Majutsu Omega [Ma10p_1080p]/Scans/Vol.3/24.webp 771.1KB
[Nekomoe kissaten&VCB-Studio] Isekai Maou to Shoukan Shoujo no Dorei Majutsu Omega [Ma10p_1080p]/Scans/Vol.3/25.webp 872.8KB
[Nekomoe kissaten&VCB-Studio] Isekai Maou to Shoukan Shoujo no Dorei Majutsu Omega [Ma10p_1080p]/Scans/Vol.3/26.webp 779.7KB
[Nekomoe kissaten&VCB-Studio] Isekai Maou to Shoukan Shoujo no Dorei Majutsu Omega [Ma10p_1080p]/Scans/Vol.3/27.webp 829.7KB
[Nekomoe kissaten&VCB-Studio] Isekai Maou to Shoukan Shoujo no Dorei Majutsu Omega [Ma10p_1080p]/Scans/Vol.3/28.webp 799.3KB
[Nekomoe kissaten&VCB-Studio] Isekai Maou to Shoukan Shoujo no Dorei Majutsu Omega [Ma10p_1080p]/Scans/Vol.3/29.webp 781.3KB
[Nekomoe kissaten&VCB-Studio] Isekai Maou to Shoukan Shoujo no Dorei Majutsu Omega [Ma10p_1080p]/Scans/Vol.3/30.webp 756.9KB
[Nekomoe kissaten&VCB-Studio] Isekai Maou to Shoukan Shoujo no Dorei Majutsu Omega [Ma10p_1080p]/Scans/Vol.3/31.webp 770.1KB
[Nekomoe kissaten&VCB-Studio] Isekai Maou to Shoukan Shoujo no Dorei Majutsu Omega [Ma10p_1080p]/Scans/Vol.3/32.webp 474.2KB
[Nekomoe kissaten&VCB-Studio] Isekai Maou to Shoukan Shoujo no Dorei Majutsu Omega [Ma10p_1080p]/SPs/[Nekomoe kissaten&VCB-Studio] Isekai Maou to Shoukan Shoujo no Dorei Majutsu Omega [CM][Ma10p_1080p][x265_flac].mkv 7.9MB
[Nekomoe kissaten&VCB-Studio] Isekai Maou to Shoukan Shoujo no Dorei Majutsu Omega [Ma10p_1080p]/SPs/[Nekomoe kissaten&VCB-Studio] Isekai Maou to Shoukan Shoujo no Dorei Majutsu Omega [IV01][Ma10p_1080p][x265_aac].mkv 446.4MB
[Nekomoe kissaten&VCB-Studio] Isekai Maou to Shoukan Shoujo no Dorei Majutsu Omega [Ma10p_1080p]/SPs/[Nekomoe kissaten&VCB-Studio] Isekai Maou to Shoukan Shoujo no Dorei Majutsu Omega [IV02][Ma10p_1080p][x265_aac].mkv 537.2MB
[Nekomoe kissaten&VCB-Studio] Isekai Maou to Shoukan Shoujo no Dorei Majutsu Omega [Ma10p_1080p]/SPs/[Nekomoe kissaten&VCB-Studio] Isekai Maou to Shoukan Shoujo no Dorei Majutsu Omega [Menu01][Ma10p_1080p][x265_flac].mkv 56.1MB
[Nekomoe kissaten&VCB-Studio] Isekai Maou to Shoukan Shoujo no Dorei Majutsu Omega [Ma10p_1080p]/SPs/[Nekomoe kissaten&VCB-Studio] Isekai Maou to Shoukan Shoujo no Dorei Majutsu Omega [Menu02][Ma10p_1080p][x265_flac].mkv 57.9MB
[Nekomoe kissaten&VCB-Studio] Isekai Maou to Shoukan Shoujo no Dorei Majutsu Omega [Ma10p_1080p]/SPs/[Nekomoe kissaten&VCB-Studio] Isekai Maou to Shoukan Shoujo no Dorei Majutsu Omega [Menu03][Ma10p_1080p][x265_flac].mkv 52.5MB
[Nekomoe kissaten&VCB-Studio] Isekai Maou to Shoukan Shoujo no Dorei Majutsu Omega [Ma10p_1080p]/SPs/[Nekomoe kissaten&VCB-Studio] Isekai Maou to Shoukan Shoujo no Dorei Majutsu Omega [NCED][Ma10p_1080p][x265_flac].mkv 72MB
[Nekomoe kissaten&VCB-Studio] Isekai Maou to Shoukan Shoujo no Dorei Majutsu Omega [Ma10p_1080p]/SPs/[Nekomoe kissaten&VCB-Studio] Isekai Maou to Shoukan Shoujo no Dorei Majutsu Omega [NCOP01][Ma10p_1080p][x265_flac].mkv 121.1MB
[Nekomoe kissaten&VCB-Studio] Isekai Maou to Shoukan Shoujo no Dorei Majutsu Omega [Ma10p_1080p]/SPs/[Nekomoe kissaten&VCB-Studio] Isekai Maou to Shoukan Shoujo no Dorei Majutsu Omega [NCOP02][Ma10p_1080p][x265_flac].mkv 120MB
[Nekomoe kissaten&VCB-Studio] Isekai Maou to Shoukan Shoujo no Dorei Majutsu Omega [Ma10p_1080p]/SPs/[Nekomoe kissaten&VCB-Studio] Isekai Maou to Shoukan Shoujo no Dorei Majutsu Omega [PV01][Ma10p_1080p][x265_flac].mkv 80.2MB
[Nekomoe kissaten&VCB-Studio] Isekai Maou to Shoukan Shoujo no Dorei Majutsu Omega [Ma10p_1080p]/SPs/[Nekomoe kissaten&VCB-Studio] Isekai Maou to Shoukan Shoujo no Dorei Majutsu Omega [PV02][Ma10p_1080p][x265_flac].mkv 81.5MB
[Nekomoe kissaten&VCB-Studio] Isekai Maou to Shoukan Shoujo no Dorei Majutsu Omega [Ma10p_1080p]/SPs/[Nekomoe kissaten&VCB-Studio] Isekai Maou to Shoukan Shoujo no Dorei Majutsu Omega [SP][Ma10p_1080p][x265_flac].mkv 641.6MB
Processed in 0.001 second(s), 2 queries